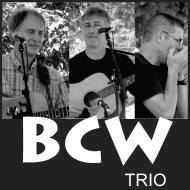 Facebook:

When:

10am Saturday July 31

Where:

Lima Presbyterian Church Lawn
They sing & play an eclectic mix of acoustic folk, folk/rock, blues, old standards, Celtic, kids' songs, you name it; something for everyone.
The BCW trio has been together for 10 years. Eric Baker on guitar, mandolin, bouzouki, and ukulele; Jim Carroll on guitar; Steve Warfle on harmonica, ukulele, and guitar. Song requests and audience participation encouraged!